Multimodal operator expresses high hopes for new Hirtshals combi terminal
Fredag 7. august 2015 kl: 09:51



Af: Jesper Christensen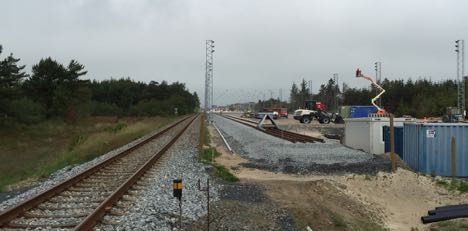 - We really see the possibilities and are looking forward to the opening for which we are running ahead at full steam, says Johan Logtenberg, Managing Director of Samskip Van Dieren Multimodal, in connection with the new freight terminal in Hirtshals, ready for use mid-September

Samskip Van Dieren Multimodal connects Duisburg in Germany with Taulov and Copenhagen in Denmark and Göteborg, Helsingborg, Malmö, Nässjö, Katrineholm and Almhült in Sweden by operating a total of 44 high frequency rail shuttles per week which primarily include trailers and containers.


Johan Logtenberg pointed out to transportnyhederne.dk that Samskip Van Dieren Multimodal plans to extend its services with 10 rail shuttles per week between Hirtshals for both trailers and containers.






At present it has not yet been decided who will become the operator of the new freight terminal in Hirtshals but for Logtenberg this is not relevant as long as operations will run smootlhy and efficiently.


- We see great opportunities when the new freight terminal in Hirtshals opens, he says, and points to Hirtshals which besides the ferries to Norway also faciliates onward connections to the Faroe Islands, Iceland and Greenland. Conversely, from Duisburg Germany connections are made into Italy, France and Spain.


The rail service, according to Logtenberg, is obvious for carriers that have larger volumes of goods that can be concentrated in Hirtshals with destinations either north or south.


Besides the environmental benefits of intermodal transport solutions Johan Logtenberg also points out that the rail service between Hirtshals - and its onward connections into Norway, Iceland, the Faroe Islands, Greenland and Denmark - will prove a very effective alternative to road transport as by train truck trailers can be loaded to a total vehicle weight of up to 44 tonnes versus only 40 tonnes for road transport.


Johan Logtenberg acknowledges that rail transport at times may be associated with a conservative or negative view.





- But the practical experience shows that it is possible, he says, pointing to the company's continued growth in intermodal services since its start back in 2003.


- It is the best way to show that it works, says Johan Logtenberg and stresses that the focus on intermodal transport solutions should be seen in the long term. "Our reliable, sustainable intermodal transport solutions meet any transport need". Today traditional operators are experiencing difficulties in finding qualified drivers - a problem that is expected to grow in the years ahead.


- We are convinced that the intermodal transport solutions will carry through, says Johan Logtenberg to transportnyhederne.dk.








© Copyright 2022 transportnyhederne.dk. Denne artikel er beskyttet af lov om ophavsret og må ikke kopieres eller på anden måde videreudnyttes uden særlig aftale.

Print siden

- Nine EU Member States are calling on the European Commission to accelerate the phase-out of petrol and diesel cars in the EU
- - We need a clearly defined target to reduce domestic greenhouse gas emissions
- More than 33,000 new electric vehicles were registered in Germany in August
- EU invests over 2 billion euros in 140 key transport projects to jump-start the economy
- Suspected fraud with diesel defeat devices in Germany, Italy and Switzerland
- Polish authorities arrest eight in latest migrant smuggling sting
- 26 arrested for smuggling irregular migrants through Belgium and France
- Remember to switch your British driving permit to a Danish
- Panalpina and DSV agree to join forces
- Truck industry reacts to EU proposal for first-ever CO2 standards
- Remondis expands its activities in Denmark
- Bolloré Logistics acquires Global Solutions in Denmark

---
Skriv din kommentar:
Alle felter skal udfyldes!



Bemærk: For at undgå misbrug bliver din IP adresse logget!